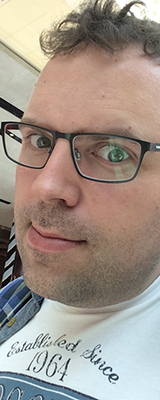 GARETH EDWARDS
Upcoming Live and New Shows:
A1 Breakfast Show - Thu 13th Aug at 07:00
A1 Breakfast Show - Fri 14th Aug at 07:00
A1 Breakfast Show - Mon 17th Aug at 07:00
A1 Breakfast Show - Tue 18th Aug at 07:00
A1 Breakfast Show - Wed 19th Aug at 07:00
The Common Room - Mon 24th Aug at 20:00

Hi, I'm Gareth, thanks for stopping by.
Well it all began for me helping out at a local commercial radio station in Wigan, making the brews. More recently I was involved in the community radio station 'Chorley FM' after joining as a presenter of the mid morning show and later becoming the Programme Controller for the station.
Since joining A1 Radio at the start of February 2018 I present a show called 'Around The UK & Down Your Street'.
Outside of A1 Radio I live in Chorley in Lancashire. I work for a local textile manufacturing company which dyes cloth for career and workwear clothing as a process operator. Ocassionally you may hear me on one of your local Radio stations reading your traffic and travel bulletins although it might be a different one each hour. I'm also a full time church organist in a parish church local to where I live.
Thanks for stopping by and I look forward to seeing you all soon in the chat room!