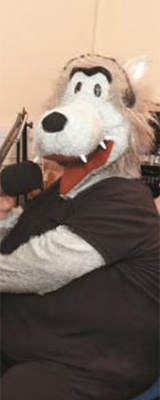 WEXHAM WOLF
Upcoming Live and New Shows:
Late Show - Sat 11th Jul at 22:00
Late Night Love - Mon 13th Jul at 22:00

Hosting from Slough in Berkshire, Wexham Wolf is the furry alter ego of internet radio newcomer Tracey Hyland. "Wexy" has just over 20 years Hospital Radio experience at Radio Wexham in Slough, and is very excited about bringing her unique sense of humour and music style to a whole new adventure at A1Radio.
Tune into "Wexham Wolf's Weekend Wind-Up" every Sunday evening from 5-7, and relive all your school disco days. So send me your requests no matter how "Cheesy"!