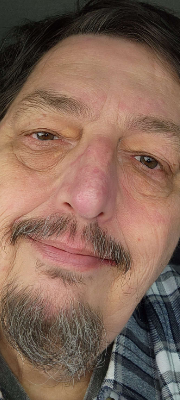 CALICO
Hey, My Name is Calico. I have been medically retired for the past three years due to heart conditions. I was a radio repairman for the USAF. I have worked on HF, UHF, VHF and even Microwave signals. For the past two years I have been streaming on Twitch. That is the total of my broadcasting experience.
I have felt wonderfully welcomed by the community here at A1Radio. Hoping to bring my quirky sense of humour and love for most things to the station.
Join me for my show 'The Rush' where I plan on covering rock songs from the 70s, 80s and 90's, but will take requests of any genre.
Other Presenters:
Adam Humphreys

Adrian Muzzall

Alan Henery

Daniel Marcus

Darren Charles

Dave Chambers

Dave Francis

Dave Roberts

DJ Bazza

Edd Keeley

Gareth Edwards

Gavin Scofield

George McDowell

Jett Tyler

John Hunter

Jonathan Creaser

Jonathan Sawyer

Joolz

Kevin Cramer

Kevin Hyland

Martyn Foxx

Newcie Jon

Paul Burton

Paul Clinch

Pete Clarke

Robin Ridgley

Simon Bode

Spike

Steve Franklin

Wexham Wolf