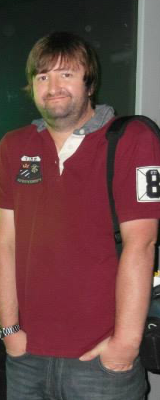 DARREN CHARLES
Upcoming Live and New Shows:
Unearthing Forgotten Horrors - Fri 8th Dec at 7:00pm
Darren is a relative newcomer to radio having started little over a year ago on Basic FM with his show Unearthing Forgotten Horrors.
He spends much of his free time listening to music, mainly obscure horror movie soundtracks, weird electronica, doom metal, post punk, occult tinged folk and psychedelia and is a big fan of horror cinema.
Darren is also known for his work with horror/drone/noise acts The Dead End Street Band and The Equestrian Vortex.
'Unearthing Forgotten Horrors' is an hour-long delve into the darker recesses of the musical underworld. A chance to immerse yourself in obscure horror soundtracks, dark drones, weird electronica, crazed kosmiche and some of the most abhorrent and twisted psychedelia ever committed to vinyl, CD or cassette.
Other Presenters:
Adam Humphreys

Adrian Muzzall

Alan Henery

Calico

Daniel Marcus

Dave Chambers

Dave Francis

Dave Roberts

DJ Bazza

Edd Keeley

Gareth Edwards

Gavin Scofield

George McDowell

Jett Tyler

John Hunter

Jonathan Creaser

Jonathan Sawyer

Joolz

Kevin Cramer

Kevin Hyland

Martyn Foxx

Newcie Jon

Paul Burton

Paul Clinch

Pete Clarke

Robin Ridgley

Simon Bode

Spike

Steve Franklin

Wexham Wolf