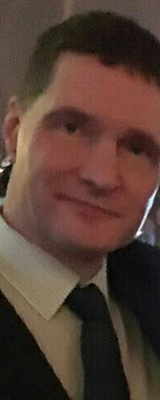 GAVIN SCOFIELD
Upcoming Live and New Shows:
Classic Funk & Soul Flashback - Thu 7th Dec at 6:00pm
I was a mobile DJ for 4 years, DJing for lots of weddings, parties and large events open to the public. I then started working on some radio stations playing my favourite music, classic Funk and Soul tunes and loving the interaction with the listeners. I do love all types of music as well. Music has always been a big passion of mine.
I also love going to comedy gigs with my girlfriend when ever we can, it's good to smile and laugh through life.
Please join me for my show 'Gav's Classic Funk & Soul Flashback' on Thursdays where we will be playing Classic Funk & Soul Music from the 60s to the 90s - and, yes, there will be requests!
Other Presenters:
Adam Humphreys

Adrian Muzzall

Alan Henery

Calico

Daniel Marcus

Darren Charles

Dave Chambers

Dave Francis

Dave Roberts

DJ Bazza

Edd Keeley

Gareth Edwards

George McDowell

Jett Tyler

John Hunter

Jonathan Creaser

Jonathan Sawyer

Joolz

Kevin Cramer

Kevin Hyland

Martyn Foxx

Newcie Jon

Paul Burton

Paul Clinch

Pete Clarke

Robin Ridgley

Simon Bode

Spike

Steve Franklin

Wexham Wolf