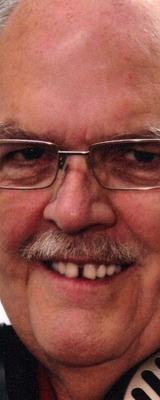 GEORGE MCDOWELL
Upcoming Live and New Shows:
Country Hour - Sun 3rd Dec at 7:00pm
Late Afternoon Show - Wed 6th Dec at 4:00pm
Memory Lane - Thu 7th Dec at 8:00pm
I got involved in the world of radio by accident: A friend of mine was a presenter on Radio Wexham way back in 1976 and kindly volunteered my services to repair their collapsing record rack (I'm a joiner by trade). Having done that, they persuaded me to help build a new studio complex as they had to relocate shortly - that became two studios, reception area and a library. Some 40 years later I was still there: I'd become a presenter with them and also held the posts of Station Manager for 3 years and Chairman for a further 16 years.
I have quite an eclectic taste in music although I tend to favour the 50s, 60s & 70s as my favourite decades - Elvis Presley & Creedence Clearwater Revival will probably pop up on a regular basis.
I'm also into aviation (ok, I'm an avgeek) and photography. It's not unusual to find me standing in a field near the end of a runway with some like minded folk pointing cameras at aircraft.
Internet radio is a new step for me and I'm looking forward to whatever challenges it brings. Many thanks for taking the time to read this, and I hope you enjoy taking a trip down "Memory Lane" with me, where I'll be playing a variety of music from the 50s, 60s & 70s on Thursdays between 8-10pm (UK time). I look forward to your company.
Other Presenters:
Adam Humphreys

Adrian Muzzall

Alan Henery

Calico

Daniel Marcus

Darren Charles

Dave Chambers

Dave Francis

Dave Roberts

DJ Bazza

Edd Keeley

Gareth Edwards

Gavin Scofield

Jett Tyler

John Hunter

Jonathan Creaser

Jonathan Sawyer

Joolz

Kevin Cramer

Kevin Hyland

Martyn Foxx

Newcie Jon

Paul Burton

Paul Clinch

Pete Clarke

Robin Ridgley

Simon Bode

Spike

Steve Franklin

Wexham Wolf