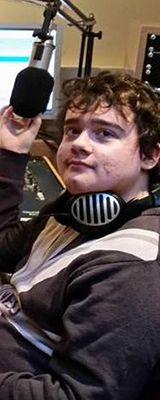 JETT TYLER
Fancy learning more about your favourite bands and artists? Want to hear some songs and tunes that don't get regular airplay? You are in the right place!
Allow the Rock and Roll Nerd himself to showcase a different band or artist from across the genres and decades with each 2 hour slot I'm allowed to run lose on the airwaves!
This is Jett Tyler & the Rockenstein - get some Jack Daniels and Cola ready, it's going to get really loud!
Other Presenters:
Adam Humphreys

Adrian Muzzall

Alan Henery

Calico

Daniel Marcus

Darren Charles

Dave Chambers

Dave Francis

Dave Roberts

DJ Bazza

Edd Keeley

Gareth Edwards

Gavin Scofield

George McDowell

John Hunter

Jonathan Creaser

Jonathan Sawyer

Joolz

Kevin Cramer

Kevin Hyland

Martyn Foxx

Newcie Jon

Paul Burton

Paul Clinch

Pete Clarke

Robin Ridgley

Simon Bode

Spike

Steve Franklin

Wexham Wolf