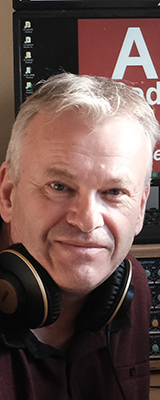 JOOLZ
Upcoming Live and New Shows:
Joolz On The Radio - Tue 5th Dec at 10:00pm
The Loud Lounge - Tue 12th Dec at 8:00pm
Like many people I started off life as a mobile DJ in the late 70s early 80s, eventually working for one of the national entertainment agencies. I supported many of the Radio 1 DJs of the day and worked alongside many pop artists in the 80s. A chance meeting in 1987 with one of these artists took me in a different direction, still connected with the entertainment industry but this time from a technical viewpoint. The rest they as they say is history but I have never forgotten my beginnings.
Heavily influenced by Laser 558 back in 84-85 I wanted to get into radio but as mentioned above the world took me in another direction, but here I am now on A1 Radio. I want to expand listener interaction but above all keep the music playing. I have a love music which is quite diverse and wide, however well documented is my love of 'Disco' so you will be sure to hear some great 'Wiggle' tunes when you tune in.
Join me for some great music playing anything from the 60s 70s 80s and 90s - actually, anything that sounds good.
Feel free to email me anytime at joolz@a1radio.co.uk if you want a mention or request.
Other Presenters:
Adam Humphreys

Adrian Muzzall

Alan Henery

Calico

Daniel Marcus

Darren Charles

Dave Chambers

Dave Francis

Dave Roberts

DJ Bazza

Edd Keeley

Gareth Edwards

Gavin Scofield

George McDowell

Jett Tyler

John Hunter

Jonathan Creaser

Jonathan Sawyer

Kevin Cramer

Kevin Hyland

Martyn Foxx

Newcie Jon

Paul Burton

Paul Clinch

Pete Clarke

Robin Ridgley

Simon Bode

Spike

Steve Franklin

Wexham Wolf