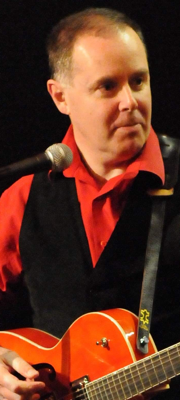 PAUL BURTON
Upcoming Live and New Shows:
Rant N Rave - Wed 13th Dec at 8:00pm
Hi, I'm Paul and I'm based in Warrington in the North West of England.
I've been into music all my life, starting off listening to my Dad's 78rpm collection of records by artistes like Elvis, Bill Haley etc. and when I began buying my own records it was the Glam Rock era of Sweet, Mud, Showaddywaddy and Slade etc. While rock 'n' roll and 60s/70s pop will always be my favourite eras, I have a wide range of musical tastes and hope I can demonstrate this for you on my shows.
I've dabbled in radio at various times over the years and actually made my first on air appearance on BBC Radio Manchester in 1973 when aged 11 - I was interviewed by a DJ calling himself "The Baron". I still have the recording but it's definitely for my ears only now! I play guitar and sing and have been in various bands down the years; in the early 80s I was in a band called The Eager Beavers and we released an EP that was so popular we still have unsold copies left!
Since 2007 I have been fronting a 50s/60s band called The Retrobeats and as well as lots of gigs, we've appeared on various radio shows down the years. When I'm not doing music stuff, my real job is in IT plus I also run a small personalised mug and gift business. I'm looking forward to joining the team at A1 Radio - just remember, any mistakes I make are deliberate! Thanks for listening.
Other Presenters:
Adam Humphreys

Adrian Muzzall

Alan Henery

Calico

Daniel Marcus

Darren Charles

Dave Chambers

Dave Francis

Dave Roberts

DJ Bazza

Edd Keeley

Gareth Edwards

Gavin Scofield

George McDowell

Jett Tyler

John Hunter

Jonathan Creaser

Jonathan Sawyer

Joolz

Kevin Cramer

Kevin Hyland

Martyn Foxx

Newcie Jon

Paul Clinch

Pete Clarke

Robin Ridgley

Simon Bode

Spike

Steve Franklin

Wexham Wolf