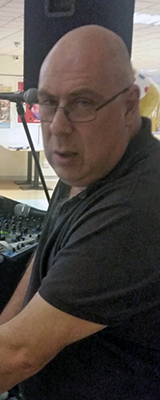 PAUL CLINCH
Upcoming Live and New Shows:
Afternoon Delight - Wed 6th Dec at 2:00pm
A1 Retro Rewind - Thu 7th Dec at 10:00pm
Paul was born in Isleworth in Middlesex and has been brought up with music from a very early age. He joined Hospital Radio in 1977 and only left when he moved away with his family after 15 years at Wexham Park Hospital. He also did discos for private functions and at the Red Lion in Hounslow back in the late 70s and early 80s. He got back into Radio again 6 years ago and been presenting a regular show for the last five years.
Paul's taste in music is very varied from rock & roll, to blues, rock, pop R&B, Soul, disco, Jazz Funk and Jazz and therefore has a big choice to play from but he really loves playing soul, old and new.
Internet Radio is totally new to Paul but he is looking forward to the challenge that it will bring and interacting with the audience that are listerning. Paul told us that he is excited about joining A1Radio and being able to share his taste in music and playing music for other people. Join him for his show, Paul's Soul On Thursday, where he will be playing Soul music from the sixties up to the present day including Jazz Funk, Disco and R&B.
Other Presenters:
Adam Humphreys

Adrian Muzzall

Alan Henery

Calico

Daniel Marcus

Darren Charles

Dave Chambers

Dave Francis

Dave Roberts

DJ Bazza

Edd Keeley

Gareth Edwards

Gavin Scofield

George McDowell

Jett Tyler

John Hunter

Jonathan Creaser

Jonathan Sawyer

Joolz

Kevin Cramer

Kevin Hyland

Martyn Foxx

Newcie Jon

Paul Burton

Pete Clarke

Robin Ridgley

Simon Bode

Spike

Steve Franklin

Wexham Wolf