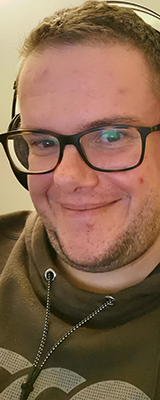 PETE CLARKE
Pete has been a part of A1 Radio since 2014, bringing an eclectic mix of amazing music and great chat (both of these may be lies). You'll find him opening the requester most shows, mainly because he's too lazy to pick music himself, and also because he likes to know what you want to hear!
Away from the microphone, Pete is an avid Brighton and Hove Albion fan, and lives in Worthing, West Sussex. He enjoys beer, quiz nights and winding his two cats, Tilly and Buster up!
Join Pete for 'The Hump Day Hit Parade', playing your songs, my songs and everyone else's songs inbetween.
Other Presenters:
Adam Humphreys

Adrian Muzzall

Alan Henery

Calico

Daniel Marcus

Darren Charles

Dave Chambers

Dave Francis

Dave Roberts

DJ Bazza

Edd Keeley

Gareth Edwards

Gavin Scofield

George McDowell

Jett Tyler

John Hunter

Jonathan Creaser

Jonathan Sawyer

Joolz

Kevin Cramer

Kevin Hyland

Martyn Foxx

Newcie Jon

Paul Burton

Paul Clinch

Robin Ridgley

Simon Bode

Spike

Steve Franklin

Wexham Wolf