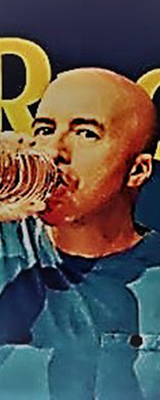 SIMON BODE
Upcoming Live and New Shows:
The Bode Show - Fri 8th Dec at 8:00pm
Simon was born in Lancashire, moved to Wales, grew up in Bedfordshire, graduated in Plymouth, travelled through South America, lives in London and presents a radio show from his basement.
He started broadcasting on hospital radio in 2003, originally launching The Bode Show five years later. Throughout the Tens he has entertained with both his charming manner and geeky chart facts, taking you through countless popular music choices which either he likes or the show dictates.
Listen to his voice inbetween some records for 120 minutes. Like most things in life, you should try it at least once. Other shows are available, however please try The Bode Show on A1 Radio, exclusively live on Friday nights from 8pm.
Other Presenters:
Adam Humphreys

Adrian Muzzall

Alan Henery

Calico

Daniel Marcus

Darren Charles

Dave Chambers

Dave Francis

Dave Roberts

DJ Bazza

Edd Keeley

Gareth Edwards

Gavin Scofield

George McDowell

Jett Tyler

John Hunter

Jonathan Creaser

Jonathan Sawyer

Joolz

Kevin Cramer

Kevin Hyland

Martyn Foxx

Newcie Jon

Paul Burton

Paul Clinch

Pete Clarke

Robin Ridgley

Spike

Steve Franklin

Wexham Wolf