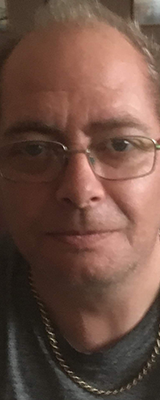 SPIKE
Upcoming Live and New Shows:
Spike Spins - Tue 5th Dec at 6:00pm
I'm Spike from Cheshire, nearly 50 and still loud!
I grew up in the late 70s and early 80s on Punk, Mod and Ska. I have watched Stock Car and Banger Racing all my life and got involved in radio on talk shows about racing. I didn't expect to be a DJ at this stage in life, but if you don't try you don't know!
I will be on air Tuesdays 6-8pm with my blend of old and new Punk, Mod, Ska and Indie music and an hour of run-thumping foot-tapping anthems chosen by you - if they pass judge jury and executioner!
Other Presenters:
Adam Humphreys

Adrian Muzzall

Alan Henery

Calico

Daniel Marcus

Darren Charles

Dave Chambers

Dave Francis

Dave Roberts

DJ Bazza

Edd Keeley

Gareth Edwards

Gavin Scofield

George McDowell

Jett Tyler

John Hunter

Jonathan Creaser

Jonathan Sawyer

Joolz

Kevin Cramer

Kevin Hyland

Martyn Foxx

Newcie Jon

Paul Burton

Paul Clinch

Pete Clarke

Robin Ridgley

Simon Bode

Steve Franklin

Wexham Wolf